We are excited to be trying something new with the latest in our series of blog conversations. We are co-hosting this blog conversation in conjunction with the Second World Urbanity Project blog. You can follow part of the conversation here at Russian History Blog, but should see the rest of the conversation (and check out the project!) over at Second World Urbanity. (And don't forget to follow Russian History Blog on Twitter (@RussHistBlog) or on Facebook.) Now on to our book:
Alan Barenberg, a past blog conversation participant here at RHB, has published a magnificent new work on the history of the Gulag and its legacy. Gulag Town, Company Town: Forced Labor and Its Legacy in Vorkuta (Yale University Press, 2014) takes us north of the Arctic Circle to one of the Soviet forced labor camp system's most notorious locations. Through an in-depth study based on archival research in Moscow, Vorkuta, and Syktyvkar, Gulag Town shows that the Gulag was thoroughly enmeshed in the Soviet system. It is a meticulous ground-level study of Soviet life–the history of the coal-producing city of Vorkuta from its foundation as a Gulag town in the 1930s to its transition from Gulag town to company town after Stalin's death. Alan shows the deep integration of the Gulag into the local community spatially, economically, and through its personnel, an integration that left lasting traces well into the post-Stalin era. As such, he has provided a concrete picture of the legacies of the Gulag in post-Stalinist and ultimately even post-Soviet history.
I am looking forward to this conversation and will add many of my other thoughts about the book as we go. For now, jump below the fold to see Russian History Blog's participants in the conversation and don't forget to check out what's happening with the conversation over at Second World Urbanity. My thanks to Steve Harris for his willingness to consider this kind of joint venture.
Alan Barenberg is Associate Professor of Russian History at Texas Tech University. In addition to Gulag Town, Company Town, look for some of his other publications on the Gulag including: "From Prisoners to Citizens?  The Experience of Ex-Prisoners in Vorkuta, 1953-1965" in Denis Kozlov and Eleanory Gilburd (eds.) The Thaw: Soviet Society and Culture in the 1950s and 1960s, University of Toronto Press, 2014; and "Prisoners Without Borders: Zazonniki and the Transformation of Vorkuta after Stalin," Jahrbücher für Geschichte Osteuropas 57:4: 513-34. Also, peruse his past writings here at Russian History Blog.
Steven A. Barnes is the founder and co-author of Russian History Blog and Associate Professor of Russian History at George Mason University. His Death and Redemption: The Gulag and the Shaping of Soviet Society, (Princeton, 2011), uses a local study of the Gulag in the Karaganda region of Kazakhstan as a way to reinterpret the role the Soviet forced labor system played in Stalin's Soviet Union. He shows how the Gulag must be understood as a penal system, attempting to sort out those who would die there and those who would be released. He is currently working on Gulag Wives: Women, Family, and Survival in Stalin's Terror, a new book focused on a group of elite women's Gulag experiences in the famed Akmolinsk Camp for Wives of Traitors to the Motherland which was located not far from Astana, the capital of today's Kazakhstan. You can find his Russian History Blog writings here.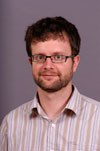 Wilson Bell is Assistant Professor of Russian History at Thompson Rivers University. He is writing a book on the Stalin-era Gulag in Western Siberia, tracing the contradictions between the very modern, bureaucratic "Gulag" as it appeared on paper, and the "Gulag" on the ground that relied heavily on informal practices, data falsification, and personal connections. He is exploring the interactions, illicit and condoned, between Gulag prisoners and the surrounding free populations. He has published numerous articles on the Gulag including: "Sex, Pregnancy, and Power in the Late Stalinist Gulag," Journal of the History of Sexuality 24.2 (2015): 198-224; "Was the Gulag an Archipelago? De-Convoyed Prisoners and Porous Borders in the Camps of Western Siberia," Russian Review 72.1 (2013): 116-141; and "One Day in the Life of Educator Khrushchev: Labour and Kultur'nost' in the Gulag Newspapers," Canadian Slavonic Papers, 2004. Check out his past writing at Russian History Blog.
Jeff Hardy is Assistant Professor of Russian History at Brigham Young University. His book, The Gulag After Stalin: Redefining Punishment in Khrushchev's Soviet Union, 1953-1964 is forthcoming from Cornell University Press. During the first post-Stalinist decade, the Gulag underwent significant and ultimately irrevocable changes. The Gulag after Stalin provides an in-depth look at the changes in the Soviet penal system during these years of "thaw" far beyond just the release of the politicals. Jeff shows how Stalinist Gulag legacies interacted with a decisive if sometimes uncertain Khrushchevian impulse to reshape that system to produce a series of reforms and counter-reforms that may not have fully accomplished initial reformist goals but nonetheless decisively and irreversibly changed the Soviet penal system in ways that made it less brutal for its prisoners. His articles include "'The Camp is not a Resort': The (re)Imposition of Order in the Soviet Gulag, 1957-1961." Kritika: Explorations in Russian and Eurasian History 13, no. 1 (Winter 2012): 89-122; and "Gulag Tourism: Khrushchev's 'Show' Prisons in the Cold War Context, 1954-1959." Russian Review 71, no. 1 (January 2012): 49-78. He has written for Russian History Blog before.